steak | fish | bar
Are you ready for the 2nd round?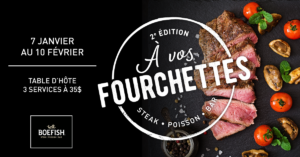 «À vos fourchettes» is back in our restaurants, from January 7th, 2019 at Boefish Sherbrooke and for the first time in Saguenay!
So much tasty choices in our delicious menu. Enjoy fancy dishes for more than a month at incredible price!
Book by contacting us at info@boefish.ca or on OpenTable (here for Sherbrooke, or here for Saguenay).
We look forward to seeing you then!