Wine connaisseurs and epicureans around the world all agree that a fabulous dining experience rhymes with an exceptionnal wine pairing ! Boefish has a true commitment to excellence when it comes to serving you the best steaks there is in town, with a beautiful selection of prime USDA and CAB meat, that is either dry-aged or vacuum-aged (minimum of 30 days), and a team of passionate chefs using the most avant-garde cooking techniques in the industry! Our team at Boefish will take you on a beautiful world tour,  for you to discover the best wines to pair with our mouth-watering steak! 
First destination, France, the motherland to the greateast wines in the world, with the Château de Haute-Serre – desgnation of origin : Cahors, 100% Malbec variety – a wine that is dry, full-bodied and refreshingly fruity. With it's purplish red color, the Château de Haute-Serre offers a beautiful ray of aromas that are fruity, spicy and woody. The flavours are refreshing and delicate : with a hint of cassis, rasberries and cocoa. You will be mesmerized by the long lasting finish of this beautiful product. 
Next stop, Italy, home to the sublime Barolo Fontanafredda – designation of origin : Barolo, 100% Nebbiolo variety – a strong, woody and dry wine, with aromas that are both complex and refreshing; with floral and fruity hints (cherries). The Barolo Fontanafredda offers firm tannins, and a delicate tobacco scent that is subtle but pleasant. The orangey red color of the Barolo is striking, with a medium mouthfeel that lingers into a long lasting final.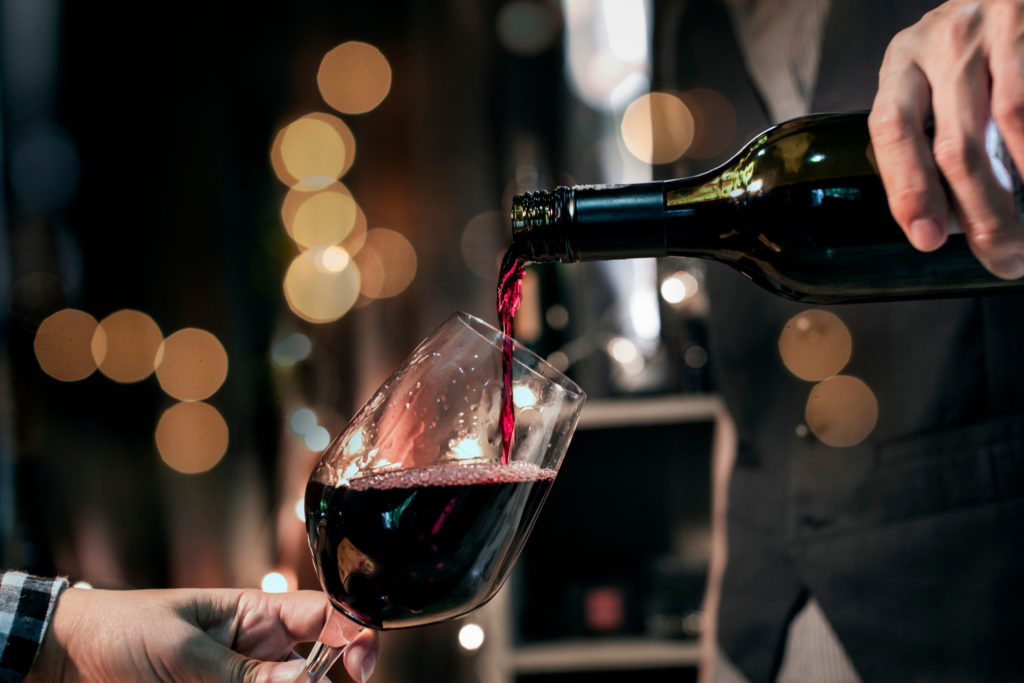 Our journey now brings us to Canada, with the critically-acclaimed Le Grand Vin, Osoyoos Larosse – Okanagan Valley appelation, Merlot 58 %, Cabernet-sauvignon 26 %, Cabernet franc 7 %, Petit verdot 7 %. Le Grand Vin is dry and full-bodied, and displays aromas that are spicy, fruity and woody. With it's fleshy tannins, and it's broad texture, this wine is a true canadian classic!
Before the journey ends, let's head to the U.S.A where we can find the internationnally renowned american wine, J. Lohr Hilltop – designation of origin; Paso Robles, Cabernet-sauvignon 90 % Petit verdot 6 % Cabernet franc 4 %. With it's impressive ruby tint, this dry and full-bodied wine displays woody, fruity (cassis) and spicy aromas, as well as a subtle tobacco and vanilla scent. You will be pleased with the fleshy tannins of the J.Lohr Hilltop, and it's long lasting finish.  
Last but not least, Australia, where a beautiful gem awaits us, the D'Arenberg Dead Arm – designation of origin : Mclaren Vale, 100% Shiraz variety. With it's marvelous and intense purplish color, the Dead Arm is a full-bodied dry win, that offers a broad texture and fleshy tannins. The aromas are intensely fruity and spicy, with hints of vanilla, licorice, coconut, jam and berries. The Dead Arm offers perfumes that are both surprising and delectable; oak, pastries, graphite and even toasted bread! This beautiful wine unfolds with a long finish. 
Come experience a once in a lifetime culinary experience at Boefish, while enjoying one of our finest bottles of wines or grands crus, specially selected for you, from our lavish and luxurious cellar (more than 1000 bottles!). Our experienced team will make sure to truly enhance your dining experience by unveiling the secrets of perfect wine pairing!